Things To Do
Cyprus is a wonderful island with many things to do, see and explore. A car is recommended for getting around the island, but not essential, as from 2013 there is a new hourly daytime mini bus service from Peyia village square to Coral Bay and Agios Georgious.
Peyia

Peyia (Pegeia) is a large attractive and friendly village spread across the hillside about 8 miles north of Paphos and 3 miles from the blue flag beach of Coral Bay. Well known for its whitewashed houses, Peyia was founded during the Byzantine era. It is famous for its spring water, and in the centre of town is the cobbled square with its cistern fountains. There is also a lovely view down to Coral Bay from the centre of town.
There are numerous coffee shops, and plenty of local welcoming tavernas providing good food at reasonable prices. There is no need to go far in the evening to find a good meal. Within walking distance are:

Peyia Taverna for your meat meze
Cousins provide a great seabream dish and much more
Harries for breakfast, a bit further down the road

Savvas with a Greek evening on a Tuesday and Friday with meze plus music and entertainment
The Grande has a smaller choice but good atmosphere and outside eating or a wood fire inside in the winter
The village also has a wonderful bakery, with lovely fresh bread each day and many other delicacies you can't ignore. Close by is a new fruit and vegetable market with some groceries. These are only around the corner from the apartment, which is tucked away just off the main street. Walking a little further up the hill is a very well stocked supermarket, supplying all your needs.
Coral Bay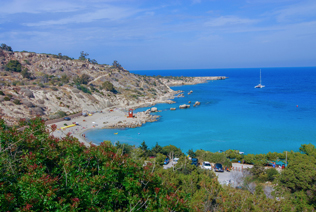 Coral Bay is a lovely sandy Blue Flag beach where there are opportunities to swim. It is especially safe for young children. Enjoy many other water sports including a diving school, jet skis and parascending. There are several coffee shops and restaurants.
Close by there is go-karting, cycling, quad biking, paragliding, tennis and within a short drive you will find four championship golf courses. Minthis Hills (Tsada) is the nearest and oldest course, about a 20 minute drive from the apartment. Secret Valley and Aphrodite courses are about 30-40 minutes away. Elena is the newest course, built by Nick Faldo, just outside Paphos and about 20 minutes away. There are some excellent reports about the restaurant there.
For divers and would-be divers there are diving schools at Polis and Paphos.
Exploring further afield
Peyia is an excellent central point from which to explore this beautiful island. It is not far from the harbour at Paphos and its world heritage site where there are some beautiful floor mosaics and the Fort. There are many archaeological areas to explore in the Paphos region. The excellent "Tomb of the Kings" is between Peyia and Paphos.
Shopping in the market in Paphos should not be missed. There is a variety of local handmade goods to purchase. Saturday morning fruit and vegetable markets are also close by.
Going north from Peyia you soon come into the wonderful region of the Akamas Peninsular. Peyia is about 20 miles from Polis where you can take the road west to Latchi with its little harbour and several fish restaurants. Much of the peninsular requires a 4X4 to be fully explored, because the roads are not made up.
Safari excursions can be booked, both to the Akamas Peninsular and the Troodos mountains. There are many mountain villages to be visited, many of them displaying their traditional craft work. In the mountains there are numerous cycle tracks and hiking routes available. At Mount Olympus in the Troodos range you can ski in the winter and enjoy the cooler air and mountain scenery in the summer. Cyprus offers the unique experience where, in the spring, you can ski in the morning and sunbathe on the beach in the afternoon!
The Aphrodite Water Park is great fun for all the family. If you book on line before you go it is possible to get some good deals. Look them up at www.aphroditewaterpark.com
Horse riding is big in Cyprus and a wonderful way to view the island. There is a "Georges Ranch" nearby www.georgesranchcyprus.com or www.rideincyprus.com which has lots of good reviews.
Adventure
If you like to participate in something more adventurous, try Zephyros Adventure Sports at www.enjoycyprus.com where there is bike hire, organised mountain biking, sea kayaking, snow sports, rock climbing and trekking in the Avakas Gorge or through the Troodos mountains to Mt Olympus.
Quad biking is also something fun to do while in Cyprus. There are several organisations offering hire and safari rides in various locations across the islands. Have a look at these two local companies for details: www.quadbikingsafari.com and www.chrisandreourentals.com.
History
Cyprus has a wonderful archaeological history. Paphos has been designated a World Heritage site by UNESCO. It has been inhabited since the Neolithic period. It was a centre of the cult of Aphrodite and of pre-Hellenic fertility deities. Aphrodite's legendary birthplace was on this island, where her temple was erected by the Myceneans in the 12th century B.C. The remains of villas, palaces, theatres, fortresses and tombs mean that the site is of exceptional architectural and historic value. The mosaics of Nea Paphos are among the most beautiful in the world. The Tombs of the Kings, in Kato Paphos, is a monumental structure carved out of solid rock with some tombs decorated with Doric pillars. Spread over a vast area, these impressive underground tombs date back to the 4th century BC. High officials rather than kings were buried here, but the magnificence of the tombs gave the locality its name.
There is free parking by the harbour in Kato Paphos, and everything to see and do is within a short walk. It is a wonderful place to explore.
Bird watching
Being positioned in the Eastern Mediterranean, Cyprus is on one of the major migration routes and many species pass and stop off each year from Europe/Asia to Africa via the Nile delta. The Cyprus list totals about 380 species of which about 50 are resident to the island and about 40 are migrant species which breed here.
Spring migration commences around the middle of March and continues into early May, with the largest numbers being seen around mid-April. The autumn passerine migration, although not quite so spectacular as spring migration, commences end of August with Herons, Egrets and Ducks along the coastline and continues on until end of October. Winter is also good for bird watching, especially the Flamingos on the salt lakes, which are amazing.
The Akamas Penninsular coastline beyond Latchi, the Paphos harbour area, the area around Asprokremnos Dam, the Evretou Dam and Mandria areas, are all within close reach of the apartment and well known bird watching areas. A little further drive gets you to the Akrotiri Sale Lake.
Check out our Gallery for birds photographed by visitors to MyHideaway
Look at www.birdlifecyprus.org for more details.
Relax
If you find yourself wanting some peace and quiet away from the beaches, there is the interesting Ayios Neophytes monastery not far from the apartment, and within an easy drive the Chrysorrogiatissa monastery that has lovely mountain views.
But don't just take our word on what's great about Cyprus, look at www.visitcyprus.com/wps/portal and uk.travel.yahoo.com/guides/europe/cyprus
for more about this lovely island.